Enjoy the Outdoors While Staying Close to Home: Beacon Hill Parks and Trails
May 20, 2021
With all the hustle and bustle of the city, you must be ready to take a step back, take a deep breath and explore the outdoors. Washington is home to some of the greatest parks and trails you can find plus they are all in your backyard. There are some great and nearby options of parks and trails for you to choose from here in Beacon Hill, Seattle! No stress here, just good hikes and fresh air. 
Jefferson Park 
Just a 3-minute drive or 11 minutes walk away from your wonderful Thrive Colina Apartment, this Beacon Hill park is the sixth largest park in the city. There is so much to do here, you will have to visit more than once. Jefferson Park is more than just a neighborhood park. According to Seattle Parks & Recreation, the park "offers unparalleled views of the Duwamish River, the city and the Olympic Mountains. The Olmsted-inspired path system flanked by trees offers a wonderful respite from city life along with many active opportunities." It is the perfect park for a weekend picnic to enjoy the sun.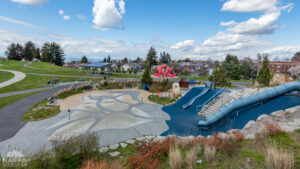 Photo Courtesy of Beautiful Washington
 Madrona Park & Beach
This waterfront park is your getaway from the loud and crowded city. It is perfect for long walks and a quiet retreat. You can also bring your trusty fishing pole along with you since there are fishing spots scattered around the park. As the summer heat arrives, the beach is a great place to cool down and swim especially with trusty lifeguards keeping watch! People on Yelp describe the park as "Breathtaking views of Lake Washington and the Eastside… We've been here a few times, and each time, I'm always mesmerized by the waterfront views, as is everyone else who visits Madrona Park." and "The views from the park were GORGEOUS and there are plenty of trees for those who want to sit in the shade. Definitely coming back for a swim/picnic!"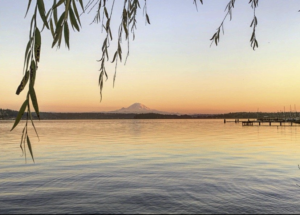 Photo Courtesy of Yelp
Daejeon Park 
A beautiful and quiet park inspired by and named after Seattle's sister city in Korea. The park features Korean style pagoda and open space. Be transported somewhere new just a couple of minutes from home! Find out more here!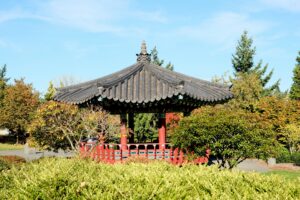 Photo Courtesy of Seattle Parks & Recreation
Waterfall Garden 
Nothing gets more peaceful than waterfalls trickling down as you take a stroll. You wouldn't be able to guess it but the Waterfall Garden is where UPS was born. With chairs and tables sprinkled throughout the park, it is made for you to enjoy some 'me time. With a book or lunch, it provides a great escape. This is what people on Yelp had to say about the park: "You're in the city, and then suddenly, you're in this small, pleasant park tucked behind some walls that are dedicated as the birthplace of UPS."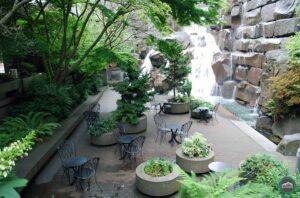 Photo Courtesy of UPS Waterfall Garden Park
Blue Dog Pond 
We can't forget your favorite furry friend! Many of the previous parks welcome dogs with leashes which is great, but when you want to let your dog run free, check out the Blue Dog Pond. The park is fenced up so there are no worries about losing your fluffy partner in crime! It even includes water stations and poop bags. This Beacon Hill, Seattle dog park is perfect for you and your furry companion. It never gets super busy and your dog will always have a friend to play with!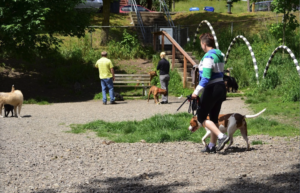 Photo Courtesy of Seattle Parks & Recreation
Back to Blog