Your Guide to Living in Beacon Hill, Seattle
March 17, 2021
Welcome to Beacon Hill, Seattle: your perch just 10 minutes away from the hustle and bustle of downtown, should the mood hit. There's plenty to love in Beacon Hill, so we're bringing you everything you need to know about living in what's known as Seattle's emblem of diversity.
Good Eats
You'll never be without plenty of choices for local restaurants in Beacon Hill, no matter what you're in the mood for. Grab Italian at Bar Del Corso or Breezy Town Pizza, or enjoy Filipinx cuisine at community and education-driven restaurant Musang. One of our favorite Beacon Hill restaurants and our neighbors, Homer, offer Meditteranean and Middle-Eastern inspired cuisine with a PNW influence. You can get Japanese to-go up the street at Hiroshi's, and there's no shortage of options for Mexican food, like Carnitas Michoacan, Corte Fino, or El Quetzal.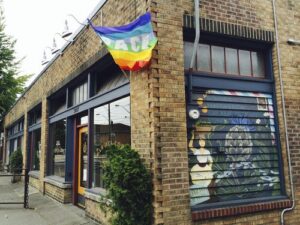 Bar Del Corso Image Provided by Bar Del Corso 
Bars
While the neighborhood is peaceful, the Beacon Hill bar scene is not to be ignored. Some of our go-to's include Clock-Out Lounge, Milk Drunk, Oak, and Perihelion Brewery, but much like the eateries above, the list goes on. Oh! And as if the catalog of restaurants we mentioned wasn't enough, our local bars also serve as some of the best eateries in Beacon Hill.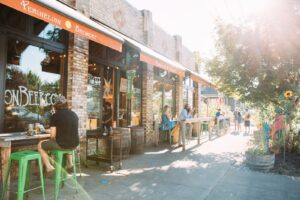 Perihelion Brewery Image by Amber Fouts
Transportation
We like to think of Beacon Hill as a hub without hubbub, but Seattle transit makes it a snap to get into the center of it all whenever you choose to. It's a 10-minute drive into Downtown, but it can be even easier to take public transportation. A 15-minute ride on the The Link Light Rail from the Beacon Hill Station just across the street from your Colina Apartments is all it takes, or hop on the 60 for a bus ride instead. You can also choose to go by bike via designated paths throughout the neighborhood. 
Image Provided by Sound Transit
Parks & Recreation
Beacon Avenue runs directly through Jefferson Park, your neighborhood outdoor recreation grounds. Here you'll discover something for everyone- sprawling greenery, a skate park, tennis courts, the Jefferson Park Golf Course, and the Beacon Food Forest community gardens. 

Jefferson park Image by Bohonus VR Photography
Grocery
Hilltop Red Apple market and grocery store is located conveniently behind The Colina Apartments, or, you can take a stroll up the block to La Esperanza Mercado y Carniceria, an authentic Hispanic market with a wide range of Mexican and Central American food, fresh produce, and more. 
El Centro de la Raza
If there's one thing to know about Beacon Hill, it's that culture and community really are the heart of the neighborhood. From the Seattle Met: "For nearly half a century, El Centro de la Raza [The Center for People of All Races] has housed programs in early education, nutrition, and workforce development that foster justice on the site of a once-abandoned schoolhouse." This public multi-use space adorned with string-lights and served by rotating food carts is a development of multiracial unity and inclusion, and one that aims to serve all people who visit. You can learn more about the cultural soul of Beacon Hill at the El Centro de la Raza site.

Plaza Roberto Maestas Image by William Wright
Back to Blog